At Capital Bathrooms, we work hard to make sure everything works well the first time. Should you need help or assistance, during or after, to solve a problem or answer a question, we guarantee we will resolve it as soon as practical.
We offer you our 6-year workmanship guarantee; to give you peace of mind that Capital Bathrooms are a trusted choice for your next bathroom or laundry renovation.
As a QBCC licensed builder with comprehensive public liability insurance, our team is committed to meeting the highest quality standards without compromising on our safety culture.
We want to provide the best experience possible! To help us, please take a moment to leave your feedback.
Your feedback is important to us. Our reputation and future depends on each customer being happy with our service and the work we do for you in your home or investment property.
At Capital bathrooms, we always encourage and welcome any feedback. If you enjoyed our service and love your bathroom, we would like to hear from you.
If you feel we can improve or support you further in some way, we want to hear from you also. 
Our focus is to exceed your bathroom goals, meet your timelines, and successfully manage your budget. We want to provide our clients with a high-quality bathroom renovation that you are happy with.
Capital Bathrooms is a brand owned by Capital Maintenance Alliance Pty Ltd (hereafter referred to as CMA). At CMA we only use quality tradespeople that have been tried and tested. All of our trades are hand-picked by CMA because of their commitment to delivering excellence in alignment with our values. Our quality tradespeople:
Have a proven commitment to quality workmanship and high standards
Are experienced and knowledgeable bathroom renovation experts
Are fully licensed and insured 
Have a high standard in relation to work ethic and behaviour on site
Comply with our strict no alcohol, no drugs, no dogs/pets on site policy
Have a demonstrated commitment to clean and safe sites
Are professionals with a genuine desire to deliver a quality space
In Australia, consumers are protected from the consequences of faulty or defective products by the Australian Competition and Consumer Act. Products must be fit for purpose and free from material and manufacturing defects. CMA offers warranty terms that in many cases exceed the basic requirements, and different product types have different warranty periods and conditions. Warranty applies from the date of purchase (not installation).
You will receive a 6-year warranty on all Capital Bathrooms' workmanship PLUS the standard manufacturer's guarantee on all fixtures, fittings and materials used in your renovation. We also provide a 6-year waterproofing guarantee for labour and materials per the manufacturer specifications.
Some CMA fixtures, fittings or materials may have a warranty period that differs based on whether they are used for Residential or Commercial purposes. Please refer for individual manufacturers guarantee for more detail on these different terms. Commercial use includes all use types other than for normal domestic residential purposes. CMA reserves the right to make changes to its products at any time without prior notification. Warranties only apply to the original owner and are non-transferable.
WATER DAMAGE
In the event of a water damage claim being made for rectification of water damage to surrounding areas as a result of a faulty or leaking product. Such claims will require a site-inspection by a CMA representative who will evaluate the claim. A further inspection by an insurance representative may also be required before a claim can be determined.
SITE INSPECTION
In a case where CMA has arranged a repair or replacement, based on information received from a customer or merchant, and it was later found that CMA is not liable for the fault as identified on site, CMA will be entitled to recover any costs directly from the customer. CMA reserves the right to charge a service fee, to be payable by the warranty claimant. It is the responsibility of the warranty claimant to ensure that installed products are easily accessible for CMA to carry out warranty service. CMA will not be responsible for any costs where adequate access to products is not provided.
MATERIALS, SUPPLIES OR WORK SUPPLIED BY CLIENT
All building work or materials performed or supplied by the client are not covered under CMA's warranty. CMA warrants its own labour, however in the event of an issue being found in relation to client supplied materials or labour, CMA reserves the right to charge the client for any materials, inspections, repairs, or installation works needed. Where a client wishes to provide PC items or labour within the nominated building area, CMA further requires the client to gain written approval prior to commencement of the contract or job.
EXISTING TILES
When new tiles and grout are not required or included in the contract inclusions, Capital will take all care when removing existing fixtures and fittings. Capital will not be held responsible for any damage caused to existing tile works. In the case of a renovation, alteration or repair work being required where new tiles or grout are to be used to match existing tile work or grout, it may not be possible to match the new to the existing. Capital may be required to use a tile or grout that is slightly different in colour, size, texture etc. and this will not be considered a defect. Additional charges apply for tiling and grout work not specified in the contract.
WARRANTY CONDITIONS
CMA will not accept claims against this warranty where the following conditions are found to exist:
Plumbing installations have not been carried out by a licensed plumber.
Installations that are not in compliance with the Australian Plumbing Code (AS3500).
The goods have been installed correctly by our licensed plumber, but subsequent repairs, modifications and/or adjustments to the goods after installation have not been carried out by a licensed plumber.
Breakage of any Glass part occurs. Glass parts not reported broken upon receipt of goods, will not be replaced or warranted.
Where goods are used or adapted for a purpose for which they were not designed.
Faults caused by:

Unsuitable, improper use or accident;
normal wear and tear;
inadequate or complete lack of maintenance;
Chemical, electrochemical or electrical influences.
Harsh detergents or abrasive cleaners used on finishes.

The item has been installed for and subject to commercial use. For the purposes of this warranty 'Commercial Use' means anything other than Domestic Use, including use in commercial applications. Including but not limited to schools, restaurants, sporting facilities, hotels, salons and day-spas. For commercial application, please refer to individual manufacture warranties.
Claims where proof of purchase is not provided.
Except as expressly stated, and to the extent permitted by law, this warranty does not include any right to be reimbursed or compensated for physical or financial injury, loss, damage, expense, time or inconvenience (whether direct or indirect) or special or consequential losses arising out of the occurrence of a defect in the parts or products or caused by use or installation of the products or damages cause by acts of nature.
More About QBCC Home Warranty Insurance
CMA are a QBCC Fully Licensed Builder Lic. 15117078 with licence classes of Low-Rise Building. By choosing CMA as your preferred bathroom renovation specialist you can be confident knowing that:
All work is done to Australian Standards.
Your renovation with CMA is insured by the QBCC. This insurance is included as part of your contract with CMA. As part of this policy the Warranty and Defect Liability period is 6 years for structural works and 1 year non-structural.
For more information on the Home Warranty Insurance visit the QBCC.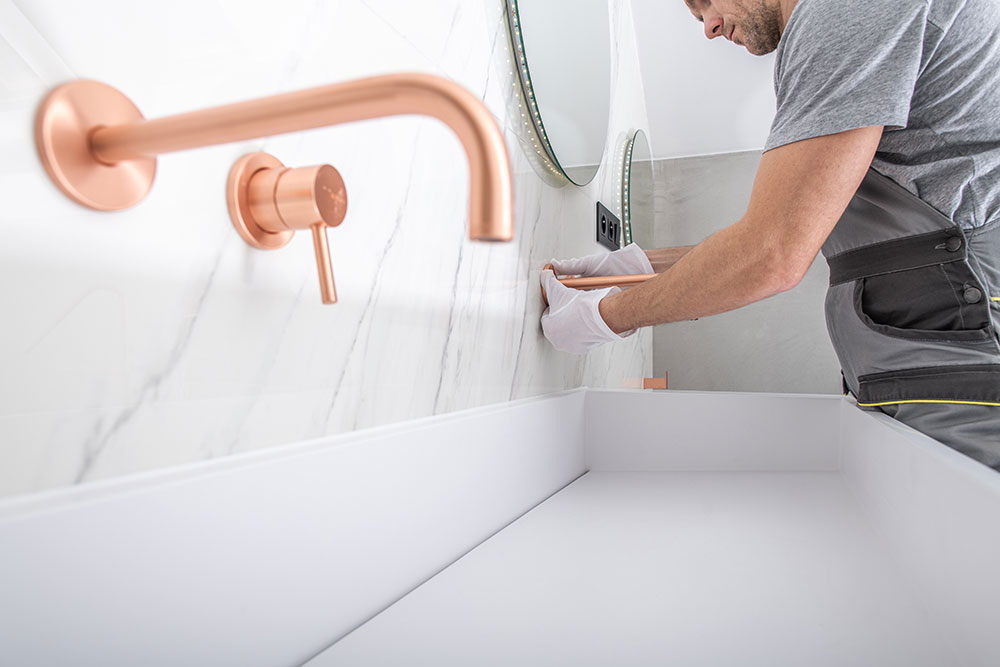 After Sales Service & Warranty Claims
CMA is proud of the quality of the products and services that we offer over our different brands and have an After Sales Service and Maintenance Team to attend to any of your concerns. Should you need to use this service, simply email bathrooms@capitaltrades.com.au with a brief description of the problem and we will ensure we promptly attend to your enquiry.
WARRANTY CLAIMS
To make a claim under this warranty you must contact either the Merchant from which the goods were purchased or CMA directly by telephone or email as set out above, with the following information:
Details of the product type and product code.
Proof of purchase of the goods including the date of purchase and where the goods have been installed.
Details of the licensed plumber who installed the goods.
Your contact details and handover documentation (if relevant).
CMA will then contact you within 10 business days of first being advised of the claim by you or by the merchant (as the case may be) and depending on the circumstances arrange to either (a) replace the goods (b) repair the goods (c) replace and install new goods (d) request more information (e) reject the claim.