Tile Laying Patterns You Need To Know
From beginning to end, every step of tile selection and installation is essential. Picking out the right colour, shape, and material is always seen as the hard part, but choosing your installation design is just as important. The layout of your tile can make your bathroom a stunning space.
Here we've compiled all the favourites to get you thinking which pattern is best for your bathroom. Each design can change the perception of a room and take the end product to a new level.
IMPORTANT: We'd recommend checking with your local tile provider or chatting with our experts before final tile selection to make sure your tiles are suitable for your chosen pattern.
BRICK BOND / STRETCHER BOND (½ Offset)
A traditional tile laying pattern reminiscent of its Victoriana heritage. Each tile overlaps the tile above and below by half, resulting in offset grout lines. By offsetting grout lines, you can hide imperfections in tiling, and walls which may not be perfectly straight.  It's also a great way to give an illusion of space and height.  When tiling in a brick bond pattern, we recommend allowing extra for cuts and breakages. This pattern is the perfect way to add flair without taking away attention from a focal point.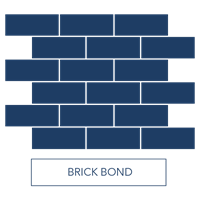 STAGGERED BRICK BOND / 1/3 STRETCHER BOND
A favourite laying pattern when laying large format rectangular tiles as it offers a contemporary feel will help give the appearance of a more extensive room. Although you can use it for all tile sizes, it's commonly used for larger tiles. This laying pattern is very similar to the Stretcher Bond, except tiles overlap the tile above and below by one third instead of half. This laying pattern is very similar to the Brick Bond, except tiles overlap the tile above and below by one third instead of half.
STEPLADDER / VERTICAL BRICK BOND
Stepladder, or vertical brick bond, creates a real tile statement while helping to create the illusion of height. A great choice with smaller tiles and large tiles, however, we recommend talking to your tiler to identify the best laying ration to prevent bowing once laid.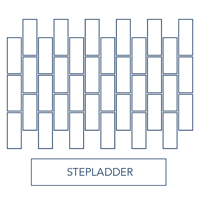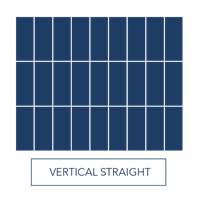 Installing your tiles vertically is a great way to make smaller rooms appear taller. This layout also adds balance to your design when working with bold 3-D tiles or highly textured tiles.
HORIZONTAL HERRINGBONE / ZIG-ZAG PATTERN
Install large or small rectangles at a 45-degree angle to form an energetic herringbone pattern. You can intensify the vertical and horizontal zig-zag movements by incorporating different colours. With a herringbone pattern, an additional percentage of tiles is recommended due to the further cuts required. This pattern is a stylish laying pattern that has been popular for hundreds of years and is an everlasting choice.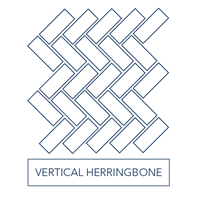 While a horizontal herringbone can widen a room, a vertical take on the traditional pattern can draw the eye up, creating the illusion of height.
DOUBLE BLOCK HERRINGBONE / THE BASKET WEAVE
Double herringbone is created by connecting two rectangular-shaped tiles. This pattern is not commonly installed because it can be a problematic layout to perfect. When laid, the tiles appear to be woven, much like a basket. If your looking for bold, a double block herringbone pattern is excellent for a contemporary statement.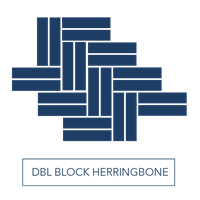 LINEAR BRICK / HORIZONTAL STACK
If you want a more contemporary look, installing your tile horizontally is the style for you. A horizontal straight stack guides viewers' eyes from the top of your design to the bottom. This layout showcases your tile the most and is perfect for boldly printed tiles.
The grid pattern is the easiest way to layout tile. This timeless design is created by stacking square-shaped tiles in a grid pattern. For added definition, use a contrasting grout colour to make it pop.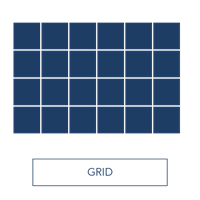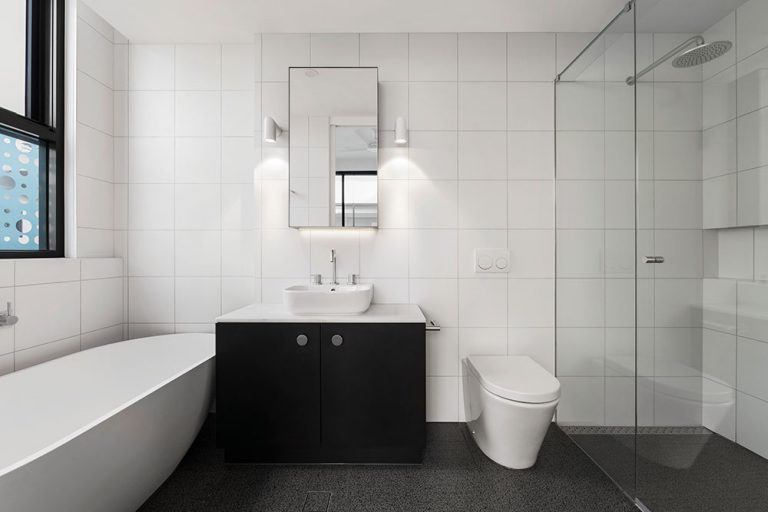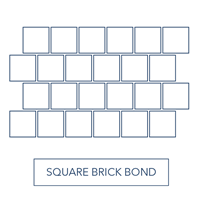 Recreate a traditional Victorian style with a 50:50 brick bond with square tiles smaller than 30 x 30 cm.
DIAGONAL OR AS WE LIKE TO CALL IT …THE DIAMOND
The diagonal layout, also known as the diamond pattern, is very similar to the grid pattern. Installing tiles at a 45-degree angle makes your floor appear wider. Diagonal patterns require more cuts when it comes to the corners of a room, so ensure you allow enough waste.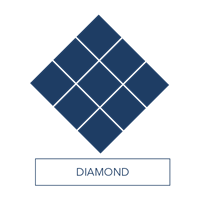 It's no surprise that tiles come in all shapes and sizes. Boost your design with hexagon-shaped tiles and mosaics. These geometric shapes are excellent for modern layouts because of their ability to support both bold and ageless creations. When tiling in a hexagon pattern, we recommend allowing extra for cuts and breakages. This pattern looks fabulous on feature walls.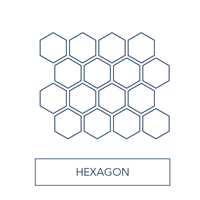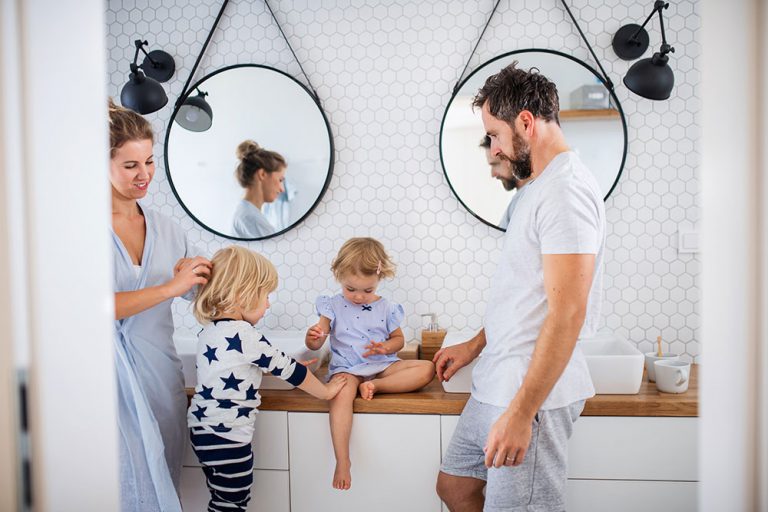 Reminiscent of a teardrop, the design has a Moroccan feel while laid upside down as a fan; it feels more Art Deco-inspired. If you choose to lay it on its side, it looks more like fish scales.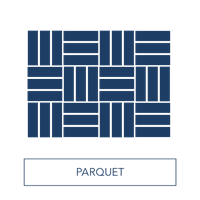 Mimicking the 1930's parquet, this pattern creates a fun look from the plainest of tiles. To achieve this design, a tile with a rectified edge is best to enable you to use a thinner grout width.
Not to be mistaken with a herringbone pattern, the chevron is created by connecting the ends of tile that are precisely cut at an angle. This added touch gives your design a chic, stylish finish, and is another excellent opportunity to use multiple tile colours.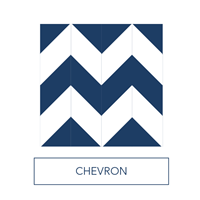 There are endless ways to lay tiles and many more that we have not mentioned here today, but with each pattern you have the ability to create a very different look. 
If you are unsure of which tile pattern is right for your style? Never fear, our team of experts are here to support you. Schedule a free consultation with our bathroom experts or National Tiles Designers to create the perfect look for your dream bathroom renovation.
Stay up to date with the latest trends as you browse through our bathroom design ideas and inspiration. From space-saving solutions for small bathrooms to new styles you will want to consider for your home or investment property, there's something for everyone here at Capital Bathrooms.