Why Build A White Bathroom?
While many of our clients select beautiful timber vanity or add a splash of colour using accent tiles, there are still plenty of those who go for serene and ageless all-white bathrooms. So why is the white bathroom still a hit?
Reasons to choose all white bathroom
White bathrooms are an excellent choice if your bathroom doesn't have any windows or natural light since they help to brighten and reflect light, making them a great choice for tiny bathrooms. Just make sure you get the appropriate white paint for your walls, ceiling, and tiles.
If you're planning to resell or rent your house, an all-white or neutral bathroom can serve as a blank canvas, allowing potential buyers to envision themselves and their belongings in the space.
You would think that an all-white bathroom is conservative and risk-averse, but it can also be timeless in its simplicity.
Consider an all-white bathroom, a blank canvas to which you can add colour and personality with your style items and plants, which will soften the area and make it feel more pleasant. To add another layer of interest, experiment with different tile shapes and grout colours.
Tips for a white bathroom remodel
Make sure you use mould-resistant, high-quality grout. This is one area where you will notice a difference in the long run.
Are you working with lower ceilings? Lay rectangular tiles on your walls, either stacked or in a stretcher bond, to give the illusion of more height.
Play with proportions; using large floor tiles and smaller wall tiles can help your area feel more balanced, but don't be afraid to mix it up and use smaller tiles on the floor and large format tiles on the wall.
Matching the colour of your wall grout to the colour of your floor tile is a subtle technique to tie the concept together cohesively when choosing grout colour for your bathroom.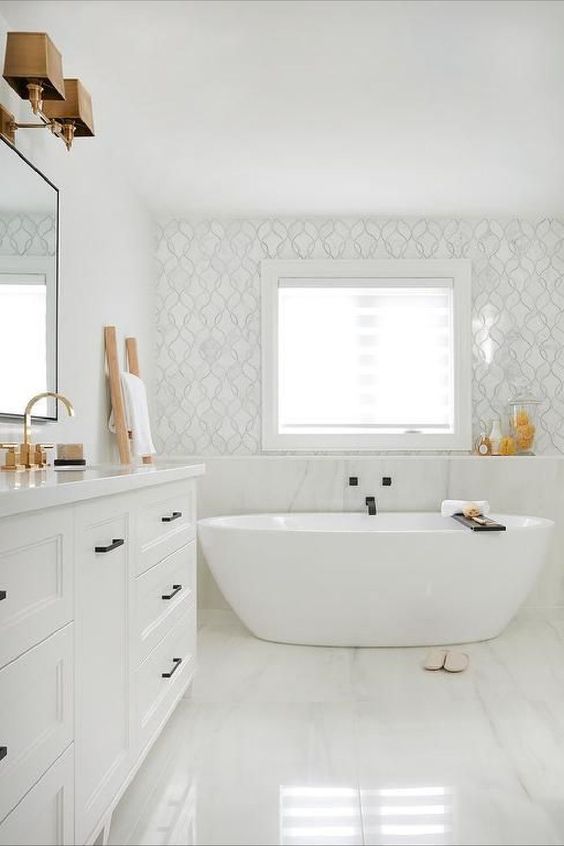 Your bathroom can change with seasons, and your mood
With white walls, vanities and baths, you have the blank slate to add any decor, colour combination or mood you want.
Looking at the three images below, you will notice that the walls, bath, floors and wooden stool are the same in each. However, by adding colourful towels, bath rugs, flowers and other decorative pieces, the whole mood and visual of the bathroom change dramatically.