Is A Double Vanity Really Worth It?
Many homeowners love the idea of a double vanity in their master ensuite. Let's weigh up the pros and cons to determine whether a double vanity is genuinely worth it. 
Pros of Double Vanity
If you're considering selling your house, consider investing in a high-quality, well-designed bathroom vanity.
With a large vanity, you can keep all of your bathroom items under the sink, making cleaning easy.
For couples who share a bathroom, double vanities are ideal. By installing two sinks in your bathroom, you can avoid bickering over who gets to use the sink first.
Cons of Double Vanity
Unless you have a lot of room, you might want to think again about installing a double vanity. Your bathroom's excess space can be used as a shower stall or a laundry station. We recommend going with a single vanity in smaller bathrooms or powder rooms to avoid crowded areas and allow for good traffic flow.
You'll have to give up some counter space to add a second sink. This could be a problem if you like to keep your bathroom necessities on your bathroom worktop. 
Material, fittings, and labour costs double with two sinks. As a result, the inclusion of a double vanity will likely raise your remodelling expense.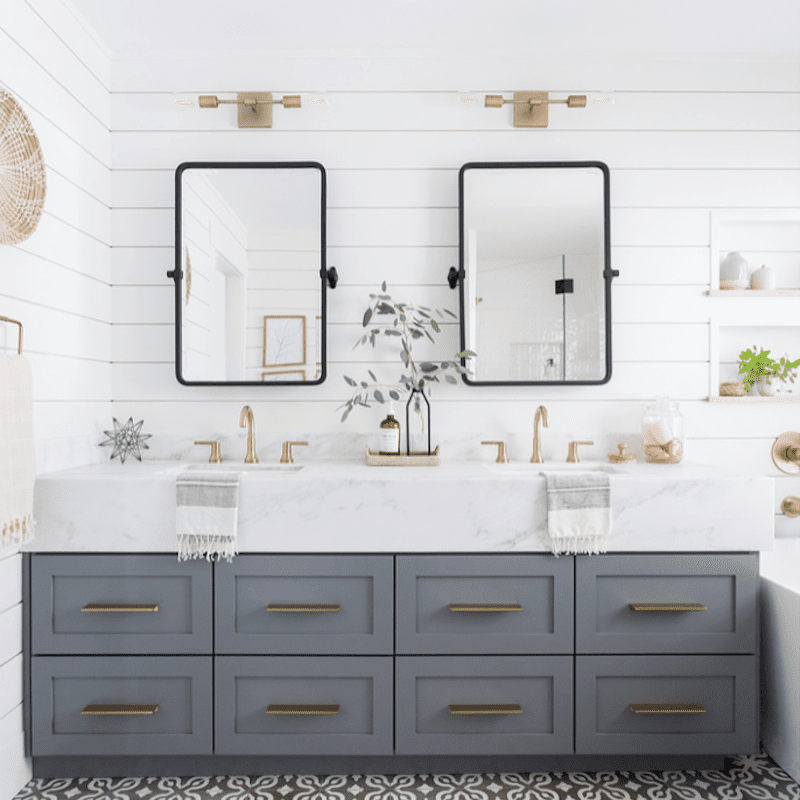 What to Think About When Building In A Double Vanity
Because a double vanity can quickly consume a lot of space, it's essential to use it correctly.  You may easily avoid any issues by measuring the area and consulting a bathroom renovation specialist.
The layout of your bathroom will limit the size, shape, and style of your double vanity. Unless you intend to knock walls, your double vanity will most likely be installed where your current vanity is.
Doors and drawers on vanities are constantly being opened and closed. As a result, make sure you provide adequate room for doors and drawers to open smoothly.