Bathroom Renovation Ideas When Selling Your Home
When it comes to selling your property, you want to receive the best price possible at the time of sale, and a new bathroom can make the home. With many factors outside of your control, there are plenty of ways you can prepare your property for a profitable sale. According to domain.com.au, one of the top renovations ideas to offer the best return when you sell includes a timely bathroom renovation.
Having a modern and clean bathroom with new fixtures and fittings allows potential buyers to imagine themselves in the area quickly. It gives them the confidence they can move right in – no bathroom renovations required. Unkempt bathrooms that require work can be off-putting to buyers and will often detract from the homes sales value regardless of the state of the rest of the home.
Luckily, there are many simple upgrades you can make that don't involve a complete restructure. We've put together a list of some simple bathroom ideas to help you sell your home without breaking the bank.
FIT NEW FIXTURES
Instead of tearing out all your existing bathroom, a simple change of outdated features could make a massive difference to the space and your budget. You can consider updating the toilet roll holder, towel and hand-rails, bathroom cabinets, basins, tap ware, and shower screens for an affordable refresh.
Similarly, you may also be considering removing the bath and replacing it with a modern shower. But does removing a bath devalue your home? It all depends on what type of buyer you are hoping to attract. If you have a large family home, prospective buyers will likely be looking for a bath where they can comfortably bath the kids. However, if the property you're renovating is a small bungalow, it may well appeal more to older buyers who could appreciate the practicalities of a spacious, easily accessible shower. For an economical bathroom upgrade when selling a home, we don't recommend changing the foundational plumbing of the bathroom too much. Allow the new owners to do that for themselves at a later date.
BRIGHTEN THE ROOM
Installing a more efficient lighting system is a popular way to brighten your bathroom. Another more effective way to brighten your bathroom is to repaint the walls and roof.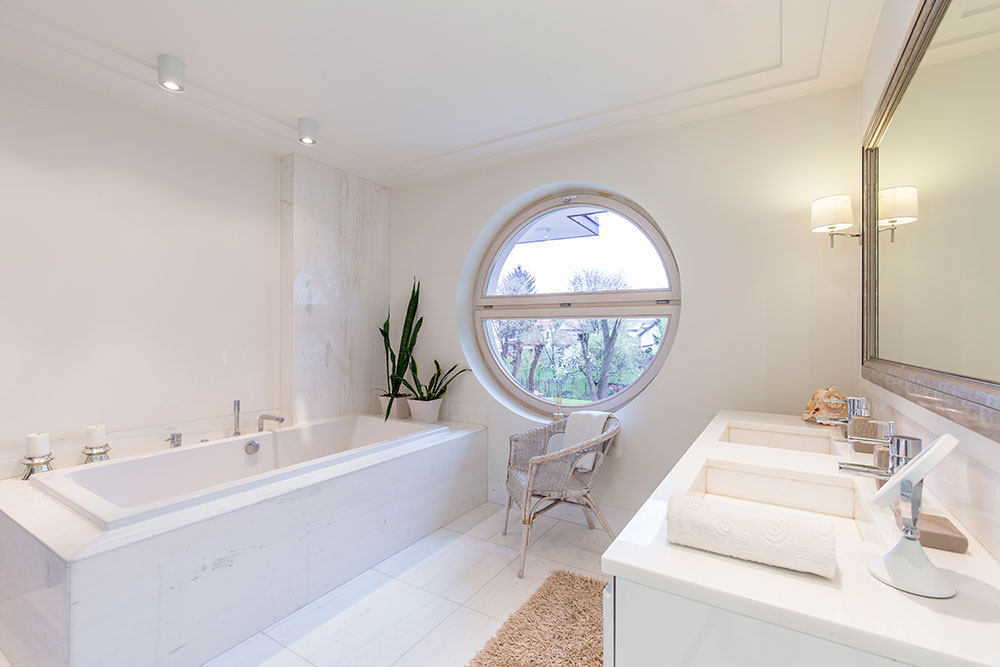 ADD SOME SPARKLE
One of the first things you should do before doing up the bathroom is to do a good deep clean to see which parts of the bathroom can be rescued. There's little more off putting to buyers than a grubby bath and grimy sink. Yet many sellers overlook the simple task of giving the bathroom a thorough clean – and go ahead and replace things unnecessarily.
Remember, grime and dirt can age a room significantly, while giving an overall impression of neglect, so be sure to use a bit of elbow grease to pick out the dirt and soap scum between tiles, or to remove the mould from the bathroom ceiling.
If the tiles are beyond saving, bathroom wall panels are fantastic for covering existing grubby walls or tiles, as they can be installed quickly and without fuss over existing wall coverings. A fresh laminate flooring can also be installed directly over floor tiles.
FINISHING TOUCHES
For the finishing touches, make sure to add a fresh set of blinds and create a consistent colour scheme through accessories like plants, towels and bathmats, picked up online. You'll be on your way to selling your home in no time!
If you are unsure of which tile pattern is right for your style? Never fear, our team of experts are here to support you. Schedule a free consultation with our bathroom experts or National Tiles Designers to create the perfect look for your dream bathroom renovation.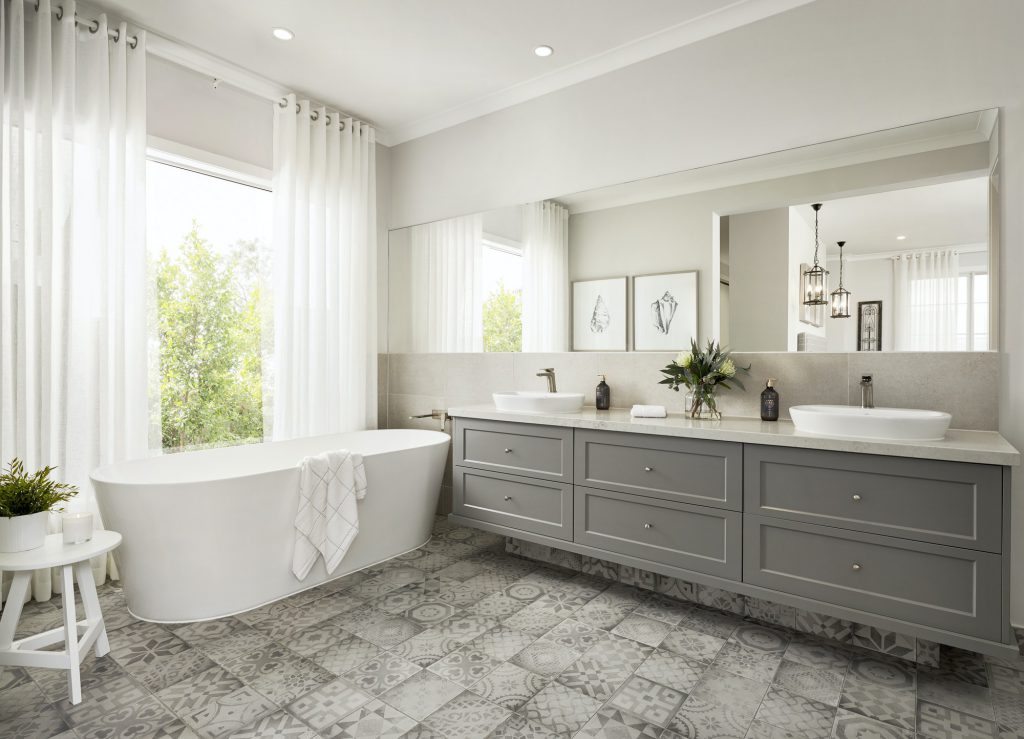 Capital Bathrooms – Bathroom Renovation Ideas
Stay up to date with the latest trends as you browse through our bathroom design ideas and inspiration. From space-saving solutions for small bathrooms to new styles you will want to consider for your home or investment property, there's something for everyone here at Capital Bathrooms.